Hematoxylin—eosin
Azan
Congo red
Giemsa
Trichrome stain
Gram
Grocott Methenamine Silver
Mallory
Orcein
PAS
Van Gieson stain
Ziehl-Neelsen stain
---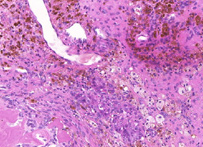 H&E stain, HE stain or hematoxylin and eosin stain, is a popular staining method in histology. It is the most widely used stain in medical diagnosis; for example when a pathologist looks at a biopsy of a suspected cancer, the histological section is likely to be stained with H&E and termed H&E section, H+E section, or HE section.
The staining method involves application of the basic dye hematoxylin, which colors basophilic structures with blue-purple hue, and alcohol-based acidic eosin Y, which colors eosinophilic structures bright pink.
The basophilic structures are usually the ones containing nucleic acids, such as the ribosomes and the chromatin-rich cell nucleus, and the cytoplasmatic regions rich in RNA.
The eosinophilic structures are generally composed of intracellular or extracellular protein. The Lewy bodies and Mallory bodies are examples of eosinophilic structures. Most of the cytoplasm is eosinophilic. Red blood cells are stained intensely red.
The structures do not have to be acidic or basic to be called basophilic and eosinophilic. The terminology is based on the affinity to the dyes.
Other colors, e.g. yellow and brown, can be present in the sample; they are caused by intrinsic pigments, e.g. melanin.
Some structures do not stain well. Basal laminae need to be stained by PAS stain or some silver stains, if they have to be well visible. Reticular fibers also require silver stain. Hydrophobic structures also tend to remain clear; these are usually rich in fats, eg. adipocytes, myelin around neuron axons, and Golgi apparatus membranes.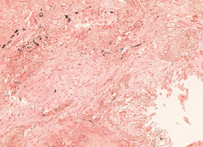 In biochemistry and histology, congo red is used to stain microscopic preparates, especially as a cytoplasm and erythrocyte stain. Apple-green birefringence of Congo red stained preparates under polarized light is indicative for the presence of amyloid fibrils. Additionally, congo red is used in microbiological epidemiology to rapidly identify the presence of virulent serotype 2a Shigella flexneri, where the dye binds the bacterium's unique lipopolysaccharide (LPS) structure.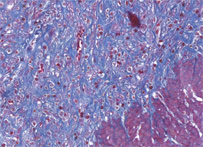 Azan stain is a complex method for general histology. This stain is suitable for color photographs, nuclei, erythrocytes, fibrin, fibrinoid, acidophilic cytoplasm, epithelial hyalin, and so on are stained "red" with azocarmine G. Collagen fibers, basophilic cytoplasm, mucus, and so on are counterstained "blue or orange" with aniline blue or orange G.
Giemsa stain, named after Gustav Giemsa, an early malariologist, is used for the histopathological diagnosis of malaria and other parasites.
It is specific for the phosphate groups of DNA and attaches itself to regions of DNA where there are high amounts of adenine–thymine bonding. Giemsa stain is used in Giemsa banding, commonly called G-banding, to stain chromosomes and often used to create an idiogram. It can identify chromosomal aberrations such as translocations and interchanges.
Giemsa stain is also a differential stain. It can be used to study the adherence of pathogenic bacteria to human cells. It differentially stains human and bacterial cells purple and pink respectively.
It can be used for histopathological diagnosis of malaria and some other spirochete and protozoan blood parasites. Also used in Wolbach's tissue stain.Giemsa stain is a classical blood film stain for peripheral blood smears and bone marrow specimens. Erythrocytes stain pink, platelets show a light pale pink, lymphocyte cytoplasm stains sky blue, monocyte cytoplasm stains pale blue, and leukocyte nuclear chromatin stains magenta.
Giemsa stain is also used to visualize chromosomes and also stains the fungus histoplasma. It is a mixture of methylene blue and eosin. The stain is usually prepared from commercially available Giemsa powder.
A thin film of the specimen on a microscope slide is fixed in pure methanol for 30 seconds, by immersing it or by putting a few drops of methanol on the slide. The slide is immersed to a freshly prepared 5% Giemsa stain solution for 20-30 minutes (in emergencies 5-10 minutes in 10% solution can be used), then flushed with tap water and left to dry.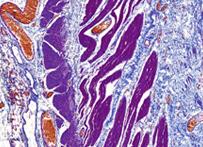 – Gömöri trichrome stain is a stain used on muscle tissue. It can be used to test for certain forms of mitochondrial myopathy. It is named for George Gömöri, who developed it in 1950.
 – Lillie's trichrome is a combination of dyes used in histology. It is similar to Masson's trichrome stain, but it uses Biebrich scarlet for the plasma stain.
 – Masson's trichrome is a three-colour staining protocol used in histology. The recipes evolved from the original Masson's formulation to different specific applications, but all are suited for distinguishing cells from surrounding connective tissue.
Most recipes produce red keratin and muscle fibers, blue or green collagen and bone, light red or pink cytoplasm, and dark brown to black cell nuclei.
The trichrome is applied by immersion of the fixated sample into Weigert's iron hematoxylin, and then three different solutions, labeled A, B, and C.
Weigert's hematoxylin is a sequence of three solutions: ferric chloride in diluted hydrochloric acid, hematoxylin in 95% ethanol, and potassium ferricyanide solution alkalized by sodium borate. It is used to stain the nuclei.
Solution A, also called plasma stain, contains acid fuchsin, Xylidine Ponceau, glacial acetic acid, and distilled water. Other red acid dyes can be used, eg. the Biebrich scarlet in Lillie's trichrome.
Solution B contains phosphomolybdic acid in distilled water.
Solution C, also called fibre stain, contains Light Green SF yellowish, or alternatively Fast Green FCF. It is used to stain collagen. If blue is preferred to green, methyl blue, water blue or aniline blue can be substituted.
Variants
A common variant is Lillie's trichrome. It is often erroneously called Masson's trichrome. It differs in the dyes used, their concentrations, and the immersion times.
Another common variant is the Masson trichrome & Verhoeff stain, which combines the Masson trichrome stain and Verhoeff stain. It is sometimes just referred to as a Masson trichrome. This combination is useful for the examination of blood vessels; the Verhoeff stain highlights elastin (black) and allows one to easily differentiate small arteries (which typically have two elastic laminae) and veins (which have one elastic lamina).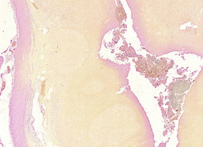 Gram staining (or Gram's method) is an empirical method of differentiating bacterial species into two large groups (Gram-positive and Gram-negative) based on the chemical and physical properties of their cell walls.While Gram staining is a valuable diagnostic tool in both clinical and research settings, not all bacteria can be definitively classified by this technique, thus forming Gram variable and Gram indeterminant groups as well. The method is named after its inventor, the Danish scientist Hans Christian Gram (1853–1938), who developed the technique in 1884 to discriminate between two types of bacteria with similar clinical symptoms: Streptococcus pneumoniae (also known as the pneumococcus) and Klebsiella pneumoniae bacteria. The word Gram is always spelled with a capital, referring to the name of the inventor of the Gram staining.
 
Uses
Gram staining is used to differentiate bacterial species into two large groups (Gram-positive and Gram-negative) based on the physical properties of their cell walls. Gram staining is not used to classify archaea, since these microorganisms yield widely varying responses that do not follow their phylogenetic groups.
 
Research
Gram staining is a bacteriological laboratory technique.The technique is used as a tool for the differentiation of Gram-positive and Gram-negative bacteria, as a first step to determine the identity of a particular bacterial sample. The Gram stain is not an infallible tool for diagnosis, identification, or phylogeny, however. It is of extremely limited use in environmental microbiology, and has been largely superseded by molecular techniques even in the medical microbiology lab. Some organisms are Gram-variable (that means, they may stain either negative or positive); some organisms are not susceptible to either stain used by the Gram technique. In a modern environmental or molecular microbiology lab, most identification is done using genetic sequences and other molecular techniques, which are far more specific and information-rich than differential staining.
 
Medical
Gram stains are performed on body fluid or biopsy when infection is suspected. It yields results much more quickly than culture, and is especially important when infection would make an important difference in the patient's treatment and prognosis; examples are cerebrospinal fluid for meningitis and synovial fluid for septic arthritis. Being able to identify bacteria by stain result/ photo, or negative stain and history is typical Medical Boards question. Special Stains and Growth Media, such as India Ink for Cryptococcus and actual appearance of hemolytic streps on growth plate are seen on test questions. 
 
Staining mechanism
Gram-positive bacteria have a thick mesh-like cell wall made of peptidoglycan (50-90% of cell wall), which stains purple while gram-negative bacteria have a thinner layer (10% of cell wall), which stains pink. Gram-negative bacteria also have an additional outer membrane which contains lipids, and is separated from the cell wall by the periplasmic space. There are four basic steps of the Gram stain, which include applying a primary stain (crystal violet) to a heat-fixed smear of a bacterial culture, followed by the addition of a trapping agent (Gram's iodine), rapid decolorization with alcohol or acetone, and counterstaining with safranin or basic fuchsin. Crystal violet (CV) dissociates in aqueous solutions into CV+ and chloride (Cl – ) ions. These ions penetrate through the cell wall and cell membrane of both gram-positive and gram-negative cells. The CV+ ion interacts with negatively charged components of bacterial cells and stains the cells purple. Iodine (I – or I3 – ) interacts with CV+ and forms large complexes of crystal violet and iodine (CV–I) within the inner and outer layers of the cell. Iodine is often referred to as a mordant, but is a trapping agent that prevents the removal of the CV-I complex and therefore color the cell. When a decolorizer such as alcohol or acetone is added, it interacts with the lipids of the cell membrane. A gram-negative cell will lose its outer membrane and the lipopolysaccharide layer is left exposed. The CV–I complexes are washed from the gram-negative cell along with the outer membrane. In contrast, a gram-positive cell becomes dehydrated from an ethanol treatment. The large CV–I complexes become trapped within the gram-positive cell due to the multilayered nature of its peptidoglycan. The decolorization step is critical and must be timed correctly; the crystal violet stain will be removed from both gram-positive and negative cells if the decolorizing agent is left on too long (a matter of seconds). After decolorization, the gram-positive cell remains purple and the gram-negative cell loses its purple color. Counterstain, which is usually positively charged safranin or basic fuchsin, is applied last to give decolorized gram-negative bacteria a pink or red color. Some bacteria, after staining with the Gram stain, yield a Gram-variable pattern: a mix of pink and purple cells are seen. The genera Actinomyces, Arthobacter, Corynebacterium, Mycobacterium, and Propionibacterium have cell walls particularly sensitive to breakage during cell division, resulting in Gram-negative staining of these Gram-positive cells. In cultures of Bacillus, Butyrivibrio, and Clostridium a decrease in peptidoglycan thickness during growth coincides with an increase in the number of cells that stain Gram-negative. In addition, in all bacteria stained using the Gram stain, the age of the culture may influence the results of the stain.
 
Examples
– Gram-negative bacteria
The proteobacteria are a major group of Gram-negative bacteria. Other notable groups of Gram-negative bacteria include the cyanobacteria, spirochaetes, green sulfur and green non-sulfur bacteria. These also include many medically relevant Gram-negative cocci, bacilli and many bacteria associated with nosocomial infections.
 – Gram-positive bacteria
In the original bacterial phyla, the Gram-positive forms made up the phylum Firmicutes, a name now used for the largest group. It includes many well-known genera such as Bacillus, Listeria, Staphylococcus, Streptococcus, Enterococcus,Diplococcus pneumoniae and Clostridium. It has also been expanded to include the Mollicutes, bacteria like Mycoplasma that lack cell walls and so cannot be stained by Gram, but are derived from such forms.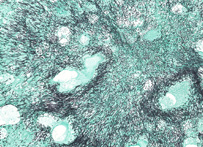 For the detection of fungal elements in tissue sections. This is an essential stain and should be used whenever a fungal etiology is suspected. Mechanism: Chromic acid treated fungi possess aldehydes which will reduce the hexamine-silver mixture to produce a black deposit, i.e. an argentaffin reaction. Fungi stain black.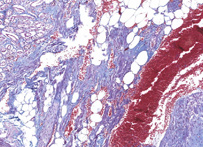 This method especially suitable for studying connective tissue; sections are stained in acid fuchsin, aniline blue and orange G solution, and phosphotungstic acid; fibrils of collagen are blue, fibroglia, neuroglia, and muscle fibers are red, and fibrils of elastin are pink or yellow.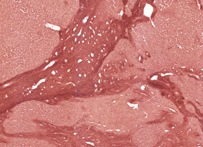 Orcein was originally obtained from lichens, but is now made from orcinol by hydrogen peroxide oxidation with ammonia present. It is a standard dye to use for the demonstration of elastic fibres, when it is applied in an acid, alcoholic solution. This same solution has also been shown to stain the rough endoplasmic reticulum of hepatitis B infected liver cells (ground glass cells).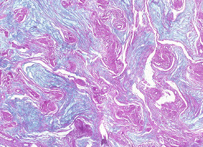 Periodic acid-Schiff (PAS) is a staining method used in histology and pathology. This method is primarily used to identify glycogen in tissues. The reaction of periodic acid selectively oxidizes the glucose residues, creates aldehydes that react with the Schiff reagent and creates a purple-magenta color. A suitable basic stain is often used as a counterstain.
 
Uses
PAS staining is mainly used for staining structures containing a high proportion of carbohydrate macromolecules (glycogen, glycoprotein, proteoglycans), typically found in eg. connective tissues, mucus, and basal laminae. PAS staining can be used to distinguish between different types of glycogen storage disease. However, it has uses beyond this, such as being indicative of certain forms of cancer, such as Paget's disease, or in staining macrophages in Whipple's disease. It can also be used to diagnose α1-antitrypsin deficiency if periportal liver hepatocytes stain positive. Presence of glycogen can be confirmed on a section of tissue by using diastase to digest the glycogen from a section, then comparing a diastase digested PAS section with a normal PAS section. The diastase negative slide will show a magenta staining where glycogen is present within a section of tissue, the slide which has been treated with diastase will lack any positive PAS staining in those locations on the slide. The PAS stain is also used to identify erythroleukemia, a leukemia of immature red blood cells. These cells stain a bright fuchsia. PAS staining is also used for staining cellulose. One example would be looking for implanted medical devices composed of nonoxidezed cellulose.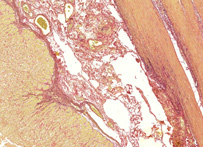 A mixture of acid fuchsin in saturated picric acid solution, used in collagen staining. It was introduced to histology by American neuropsychiatrist and pathologist Ira Van Gieson.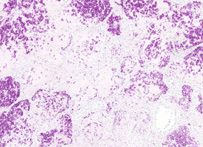 The Ziehl-Neelsen stain, also known as the acid-fast stain, was first described by two German doctors; Franz Ziehl (1859 to 1926), a bacteriologist and Friedrich Neelsen (1854 to 1894), a pathologist. It is a special bacteriological stain used to identify acid-fast organisms, mainly Mycobacteria. Mycobacterium tuberculosis is the most important of this group, as it is responsible for the disease called tuberculosis (TB) along with some others of this genus. It is helpful in diagnosing Mycobacterium tuberculosis since its lipid rich cell wall makes it resistant to Gram stain. It can also be used to stain few other bacteria like Nocardia. The reagents used are Ziehl-Neelsen carbolfuchsin, acid alcohol and methylene blue. Acid fast bacilli will be bright red after staining.